Well with all the talk centering for the next couple weeks on Elk season, I'd though I'd drop a highlight reel of some of the gear RD and I will be rocking in the
Nat'l
Forest this September (17 Days Away !!!!) Stay tuned for gear reviews, but most of this stuff
has
already been tried and approved with the
dbo
seal of approval so here we go...
Shelter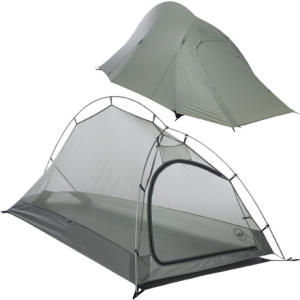 Big Agnes
Seedhouse
SL
1 - This will be one of my new additions to the gear list. During the indoor trial in the living room, it's setup should be pretty quick, although the loop system for the poles will make it impossible to do the rainy-day-special setup:
fastfly
first then add the tent body clipped in underneath, the design requires the tent body to be setup first, getting wet in the process. Other than that, it'll be a little short on room for the 6'6" man but should be just enough to suffice. Very light (2lb6oz) I look forward to giving it a whirl.
Kelty
Gunnison
2 - This is my standby backpacking tent that will
probably
come along on loan to Ryan and Daryn for a close and c
udley
two man shelter. It was cheap and everything about it is easy. It weighs in at a little heavy 5lb3oz (2lb9oz/ man). Although its 92x58
floor plan
is roomy as far as most 2 person tents go. Tent setup is ultra quick and simple and the vestibule space is a pure luxury! Gets a little cozy with two big boys but
that's
the way it works in the
backcountry
. You gotta be willing to cuddle man!
Sleep System
Marmot Helium 15deg Long Sleeping Bag - This thing is a work of pure
genius
for a long bag at 2.1lbs!!! Super light, Super Warm, User friendly. It can't be beat! Expensive but an easy way to let dollars save you pounds. It has yet to let me down.
Exped
SynMat
7 Pump Deluxe - Super Big and comfortable. My ability to get a good nights sleep is one place I
don't
care about dollars or weight, I'll take whatever it takes to let me sleep. Being a side sleeper is tough in the hills but this pad
allows
me to do so comfortably. At almost 2.5 lbs it is heavy, but compared in comfort to a similar weight
thermarest
, it blows them away with its 2.8" thickness. I tried the closed cell, tried the self inflating but nothing lets me sleep like I do at home like this thing.
Cooking and Water
Jetboil
PCS - If you know what it is you already
outta
know it's the greatest and there is no other option for
Mountain House
meals. Speaking of Mountain House, I eat these things when I run out of food at home. They are that good and I
usually
end a meal in the
backcountry
wondering why I don't eat these things everyday at home! They are delicious!
Potable Aqua w/taste
neutralizer
-
Super lightweight
, tastes great.
Nuff
Said.
Other Neat Stuff
Sea to Summit

eVent

Compression Dry Sack
- Everyone with a down bag always wished there was a
truly
lightweight way to store that bag in a waterproof sack to avoid compromising their precious down. Until now the dry bag option was like carrying a rubber sack that completely eliminated the weight advantage of the down sleep system. This stuff sack made of the
ultra lightweight
(as well as waterproof and breathable)
eVent
fabric cures those ales and really gives an extra sense of security knowing you can take on a monsoon and still
ahve
a dry comfy down bag.
Sea to Summit Pocket Hand Wash - This is another great innovation from the Sea to Summit folks. Picture a
Listerine
Breath Mint Strip for your hands. It is small dry leaves of soap much like the breath strips. Add water and they foam right up into a sudsy hand soap, that is also biodegradable and safe for the
backcountry
. I don't know what I use to do without them. Not necessarily scent free for hunting but nothing a few pine needles can't counter act.
Sitka

Gear
- If you've tried it, I don't need to say anything. If you haven't, my last statement should say
enough
. Worth it's price tag, and that says
alot
because
that's
what the price tag says...
ALOT
!
Danner
Pronghorns - Been
alot
of talk about these too but I have never had a boot 'just feel right' like these
Danners
did. My first high dollar hunting boot and probably my last. I'm not saying nobody makes anything better or comparable, I'm just saying I'm so happy with these that I don't care.
Badlands 4500 - May very well be on it's maiden voyage with this 8-9 day hunt. Risky, I know, but hopefully it holds up to its reputation. I'm a little nervous heading to the woods with a pack I haven't had the chance to trial. Oh well.... It'll look good with 2 or 300 inches of bone
hangin
out of it whether or not my back hurts! One first glimpse takeaway, no
waterbottle
pockets, which means whatever you fit in the bladder is all you got... Something about drinking out of a hose that isn't as refreshing to me as pouring it out of a
nalgene
all ov
er
myself while trying to get a sip. Guess I better get used to it.
Nikon
Fieldscope
20-60x60 - Hasn't even shown up on my
doorstep
yet. Hopefully it helps and falls into its price range in performance like I expect it to. More on this one later or post-hunt.
Steiner Predator C5 10x42
Binos
- Very impressive in recreational use and out on coyote and pig hunts here in CA but yet to really be tested. Another on
ethat
should have a good report post-hunt.
Havalon
Piranta
-Z Knife - The best $40 spent in hunting supplies. This is the folding knife that holds the
replaceable
scalpel
blades
. Comes with a
twelve
pack of these things and truly designed for the task of cutting flesh where sharpness and precision could not be
more
important. Makes amazing fast work of skinning and
caping
. I like it, you'll like and SUPER light at 2
ozs
. Shoot it only weight 3.15 is with 12 spare blades and a holster!!! That can't be beat!
Well
that's
a "short" list to get the juices flowing, any questions on any of the gear let me know and I'll give you my opinion, for
what
its worth. I'm not a professional but I know what works for me and hopefully that's enough for others and will help with their own gear selections.
Hopefully Dickey will finalize his gear list here in the next week and we'll be on a roll... AND BUY YOUR TAG ALREADY!!!